Welcome Day Salutes Students, Both New And Old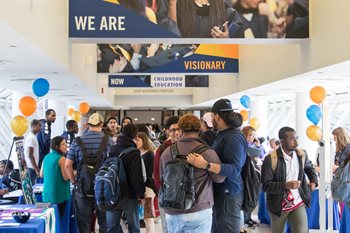 Hostos' golden anniversary would not mean anything if it were not for the incredible students who attended the College for the past 50 years.
To ensure the latest class of Hostos students begin their academic journey on the right foot, "Welcome Day" was held on Sept. 7. The all-day series of events helped acclimate students to Hostos through workshops, networking opportunities and fun activities.
Organized by the President's Office and the Office of Student Activities, events were open to all new and all returning students.
Jerry Rosa, the Director of Student Activities said the aim was to "have a good beginning of the school year 'WIFI' – that is, we wanted them to feel Welcomed, Informed, Familiar with student services and Involved in Student Life."
The workshops, titled "Strategies for Academic Success," "Embracing Student Life," and "Planning for the Future," offered everything from relaxation techniques to advice on how student life activities can make them better students and citizens. Advice about planning for life after Hostos was even offered.
The day was rounded out by a scavenger hunt, bingo, lunch and other fun social activities.
You can see some great photos from this event on our Facebook Page here.
Hostos Salutes Alumni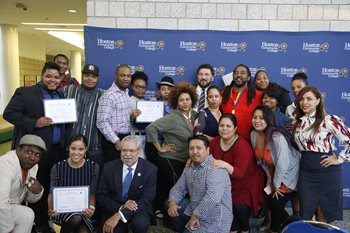 Welcome Day ended by saluting several special alumni who returned for the "Alumni Speakers Bureau Recognition Reception." Hosted by the Division for Institutional Advancement and the Alumni Relations Office, the evening showcased some of the best graduates Hostos has to offer.
Adam Meyer, the Alumni Speakers Bureau Coordinator, served as host and Vice President of Institutional Advancement Ana Martínez also welcomed the special guests.
Longtime Hostos Business Professor Sandy Figueroa received an award for her ongoing work engaging Hostos alumni through classroom presentations. "It's always great to have graduates return to my class to talk about how Hostos has helped them get ahead in their professional lives," Figueroa said.
Class of 2012 alum Saddiq Terrance A. McSween, now a Registered Radiologic Technologist, returned to the College to receive the Alumni Speakers Bureau Award for Outstanding Service to the Community. "I never tried to hide my past… I came here as an ex-felon with the plan of changing my life for the better. Hostos Community College gave me the foundation necessary for me to achieve my goals."
As an honor student at Hostos, McSween was elected Vice President of the Student Government and was President of the Black Student Union. McSween was awarded numerous grants and scholarships, including the Martin Luther King Scholarship, the Circle of 100 Scholarship, as well as the American Society of Radiologic Technologists (ASRT) Scholarship Award for Excellence.
Speaking to the spirit of the event himself, McSween urged others to give back and offer support to others who have helped them down the twisting roads of life. "If you see a troubled or at-risk youth—and it doesn't just have to be at Hostos—reach out to that individual and talk to them so that they can get back on the right path."
McSween also spoke passionately about how everyone should "water and nurture their roots." He spoke fondly about how Hostos helped him build a firm foundation for himself and his family.
Other Hostos alumni who were honored were: Pedro Alvarez, Bruno Beja-Umukoro, Latayvia Brown, Sharae Brown, Adelyn E. Castro, Angel Cuevas, Feliberto Feliz, Gretcher P. Hernandez Rosario, Jose Jacobo, Maria D. Jimenez, Fernando "Ponce" Laspina, Jubril Lawal, Sierra Lebron, Makea Lowe, Majory Marekera, Juan C. Martinez, Camille Mckinnon, Idelsa Mendez, Gabrielle Napolitano, Jamila Outlar, Roberto Ragone, Naomi Strother, Saudy Tejada, Luis E. Torres, Steven Walker, and Johnnie H. Williams Jr.
You can see some great photos from this event on our Facebook Page here.
If you are interested in joining the Alumni Speakers Bureau, or if you would like to book a speaker for an in-classroom presentation or panel discussion, please contact ASB Coordinator Adam Meyer at AMEYER@HOSTOS.CUNY.EDU or call the Alumni Relations Office at 718-518-4180.
Incredible Legacy of Las Tres Hermanas Honored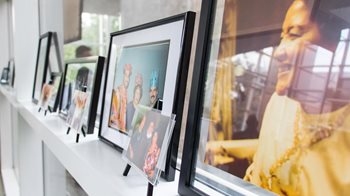 On Sept. 14, Hostos Community College opened Hispanic Heritage Month with a heartfelt multimedia exhibition chronicling the lives of three Puerto Rican women who supported their Bronx community when it needed them most.
A reception for Las Tres Hermanas: Art, Education & Activists brought the community to the A-Atrium at Hostos to open the exhibition and pay tribute to Elba Cabrera and her two late sisters, Evelina López Antonetty, Lillian López, who profoundly changed the cultural and political landscape of New York – especially the Bronx – through literature, literacy, the visual and performing arts, and political advocacy.
Hosted by Malín Falú, the heartfelt reception was attended by Elba Cabrera, a longtime supporter of the College and member of the Hostos Community College Foundation Board.
Falú, an American journalist and model and popular personality on Spanish language radio in New York City, called the sisters "an inspiration for us all" as she talked about how they changed the political and social landscape of New York City, while serving as inspiration for the next generation of change agents.
Hostos President David Gómez was also in attendance and talked about the incredible impact Las Tres Hermanas had.
"It is appropriate that we celebrate their legacy," President Gómez said. "They truly made New York a more just city. We are all in their debt."
The event also saw Hostos Professor Lizette Colón speak passionately about the current challenges of Puerto Rico, Las Tres Hermanas' homeland, and why it is important to stay involved and follow their example of activism.
An emotional Elba Cabrera stole the show, as she brought up many member of her family to thunderous applause. Cabrera said she was moved beyond words, but wanted to let the audience know that her "sisters are also here in attendance."
The event was rounded out by bandleader and percussionist Bobby Sanabria and friends.
Guests marveled at the old photos of the sisters, which told the story of their lives and their important work. The exhibition features archival pieces, ephemera and original works, and will be on view at Hostos until October 10, 2017, in the A-Atrium at 475 Grand Concourse in the Bronx.
The original exhibition was conceived by Christine Licata and Elena Martínez and was produced by the Bronx Music Heritage Center. The curators are Martínez and widely published photographer Joe Conzo, Jr. The Hostos Exhibition Researcher and Curator was Nydia R. Edgecombe and includes new artwork by two Hostos graduates, Andre Velóz and Alice Curiel, and Hostos employee, Pat Mabry, a quilt artist.
The event was presented by the Division of Institutional Advancement in collaboration with the President's Office. The Exhibition Committee was comprised of Elba Cabrera, Nydia R. Edgecombe, Wallace I. Edgecombe, Elena Martínez, Idelsa Mendez, Morris Ores, Juanita Lanzo, and Rich Pietras.
You can watch Bronx News 12's coverage of this event by clicking here.
You can see some great photos from this event on our Facebook Page here.
More about Las Tres Hermanas
Evelina López Antonetty, Lillian López, and Elba Cabrera were among the most prominent in a long line of women activists of the Puerto Rican Diaspora. Evelina Antonetty (1922-1984) migrated to New York City in 1933. She worked closely with progressive Congressman Vito Marcantonio and was a close lieutenant of the legendary labor organizer Jesus Colón. In the mid-60s she founded United Bronx Parents (UBP), which advocated for tenants' rights, bilingual education, health services, childcare and legal rights. Although its focus was primarily the Puerto Rican community in the South Bronx, UBP became a model for similar inner-city institutions across the country.
Joined by her mother and younger sister, Elba, Lillian López (1925-2005) followed Evelina to New York in 1935. She was one of the first Puerto Ricans of the Great Migration to graduate from Hunter College (1952) and then the prestigious Columbia University Library Science Program (1960). During a long career with the New York Public Library, she founded the South Bronx Project, which positioned libraries to assume vital roles in community development. Its success led her to become Coordinator of Special Services of the entire library system, a position from which she spearheaded many outreach efforts throughout New York City using the South Bronx Project as a model.
The "baby" of the family, Elba Cabrera was no less driven. After raising two strapping sons, she immersed herself in the world of arts and culture, becoming a pioneering and fierce advocate. She was among the founding staff of the Association of Hispanic Arts where she became an important mentor for emerging Latino artists. She has served on the board of the Hostos Center for the Arts & Culture since its founding in 1982, helping to mold it into one of the most important voices in Latino arts in the United States.
Three sisters. Three pioneers of the Latino community. Three tireless and lifelong advocates of parents' rights, literacy and the arts. Evelina, Lillian and Elba have left a sparkling legacy for Latinos nationwide. Although they worked in different fields, their efforts always complemented each other, and they spent their lives deeply connected, maintaining a vast extended family that was never limited to blood relations. It is telling that among the communities they so tirelessly served, they are invariably referred to as Titi (auntie) and Madrina (godmother).
About Hostos Community College
Eugenio María de Hostos Community College is an educational agent for change that has been transforming and improving the quality of life in the South Bronx and neighboring communities for nearly half a century. Since 1968, Hostos has been a gateway to intellectual growth and socioeconomic mobility, as well as a point of departure for lifelong learning, success in professional careers, and transfer to advanced higher education programs.
Hostos offers 27 associate degree programs and two certificate programs that facilitate easy transfer to The City University of New York's (CUNY) four-year colleges or baccalaureate studies at other institutions. The College has an award-winning Division of Continuing Education & Workforce Development that offers professional development courses and certificate-bearing workforce training programs. Hostos is part of CUNY, the nation's leading urban public university, which serves more than 500,000 students at 24 colleges.