December 7, 2011
On Monday, November 21, the CUNY Law Domestic Violence Coalition invited a panel of domestic violence survivors and advocates to speak about the Domestic Violence Survivor Justice Act.
The panel, "Sentencing Survivors: Help Change How the Criminal Legal System Responds to Survivor-Defendants," was co-sponsored by the Asian Pacific American Law Students Association (APALSA), Law Students for Reproductive Justice (LSRJ), and OUTLaws. The panel began with a short documentary, "Strength of a Woman," and included:
Sharon Richardson, STEPS to End Family Violence
Jesenia Santana, STEPS to End Family Violence
Jaya Vasandani, Women in Prison Project, Correctional Association of New York
Prof. Donna Lee (Moderator), CUNY Law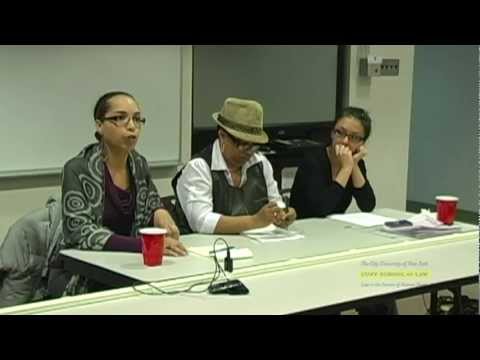 Watch the full panel above, on YouTube, or as a free download from iTunes U.